Organic Chemist at StoreDot
VEran Sella
Currently: Teva Pharmaceutical Industries
https://www.instagram.com/eransella/

See Instagram photos and videos from

Eran Sella

(@eransella)
Technology
Innovative organic compounds
StoreDot technology is based on a unique methodology that has enabled the design, synthesis and tuning of materials to create proprietary organic compounds that dramatically improve the performance of a range of devices, including batteries, displays, sensors and digital memory.
StoreDot's core technology is based on chemically-synthesized organic molecules of non-biological origin. These innovative molecules demonstrate uniquely tunable optical and electrochemical properties, which allow for the emission of vivid saturated colors, and the enhanced performance of energy storage devices.
Competing technologies are predominantly based on metals, including heavy and toxic metals. By contrast, StoreDot's organic compounds are non-toxic and environmentally safe. Moreover, they are readily available, manufactured at a fraction of the cost, and therefore superior to any other alternative.
Store
Dot Ltd. I 3 Shenkar St. Herzeliya I Israel 4672503 I Phone: +972 3 5097710
Position Title:
Ph.D student
Education:
Tel-Aviv University, B.Sc Chemistry
Contact:
eransell@post.tau.ac.il
Tel at Lab:
03-6406548
Excellent Ph.D. Student
Teva Ltd.
Excellent Ph.D. Student
Wolf Foundation Scholarship
Excellent Ph.D. Student
Israel Chemical Society
Publications
Chemical Communications
November 30, 2008
Journal of the American Chemical Society
July 29, 2009
Journal of the American Chemical Society
March 24, 2010
Chemical Communications
September 21, 2010
Chemistry - A European Journal
September 9, 2011
Organic & Biomolecular Chemistry
November 17, 2011
Journal of the American Chemical Society
April 2014
Antroquinonol A: Scalable Synthesis and Preclinical Biology of a Phase 2 Drug Candidate
ACS Central Science
December 23, 2015
Herzeliya, ISRAEL
Herzliya is an affluent city in the central coast of Israel, at the Northern part of the Tel Aviv District known for its robust start-up and entrepreneurial culture. It has a population of more than 110,000 residents.
Wikipedia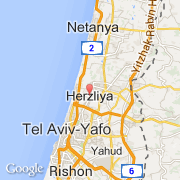 ////////////////