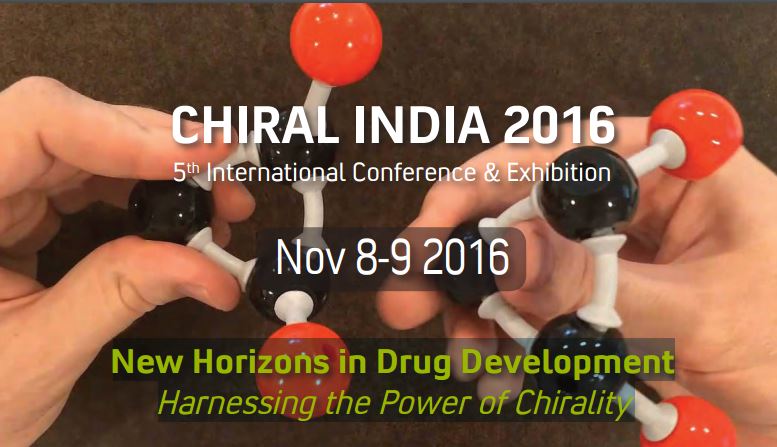 With DR CHRISTOPHER WELCH, MERCK, USA, At Chiral India 2016, New horizons in Drug development, Harnessing the power of Chirality .Organised by chemical weekly at Holiday inn international, Mumbai, India, Nov 8 2016
Mohan my attendant
With Dr R RAJAGOPAL, Chemical weekly, At Chiral India 2016, New horizons in Drug development, Harnessing the power of Chirality .Organised by chemical weekly at Holiday inn international, Mumbai, India, Nov 8 2016
With Dr TIVADAR FARKAS, At Chiral India 2016, New horizons in Drug development, Harnessing the power of Chirality .Organised by chemical weekly at Holiday inn international, Mumbai, India, Nov 8 2016
With Dr Laxmikant patkar, USV, At Chiral India 2016, New horizons in Drug development, Harnessing the power of Chirality .Organised by chemical weekly at Holiday inn international, Mumbai, India, Nov 8 2016
— with LAXMIKANT PATKAR USV.
Full USV team @ Chiral India 2016, 5th International Conference and Exhibition.
With ICTIANS, At Chiral India 2016, New horizons in Drug development, Harnessing the power of Chirality .Organised by chemical weekly at Holiday inn international, Mumbai, India, Nov 8 2016
— with Rupesh U Shelke, Shreerang Joshi, Sandip Sabaleand Mohan Thakur.
India's only conference focusing on new chiral technologies for pharmaceutical fine chemicals. The event is a unique platform to learn about recent advances in chiral chemistry, technology and application.
Chiral India series which began in 2012 has now grown into a major must-attend event for the Pharmaceutical industry. This platform is the most popular chiral technology platform bringing together the top experts from China, Canada, USA, Japan, India and other countries to present the latest developments in chiral drug developments and brainstorm with leading R&D personnel from Indian pharmaceutical industry.
The fifth edition of

Chiral India

to be held on 8-9 November 2016, at Holiday Inn (Mumbai), follows the success of previous four annual editions (2012, 2013, 2014 and 2015) and is now an event awaited by R&D professionals across the industry.
International panel of Chiral experts will address on key Themes

Asymmetric hydrogenations: New directions

Chiral switches: Development of single enantiomer drugs

Chiral tool kit in new drug development

Organo molecular catalysts

Enzymatic processes for new chiral drug synthesis

Chiral chemistry in natural product synthesis

Chiral catalysis: An overview of recent advances

Chiral drugs: New regulatory directions

Chiral separation technologies

Flow reactions for chiral drug development
R Rajagopal +9198211 28341 rraj@chemicalweekly.com kiran@chemicalweekly.com
| | | |
| --- | --- | --- |
| Dr. R. Rajagopal | B-602, Godrej Coliseum | Tel: +91 22 24044477 |
| Editorial Advisor | K.J. Somaiya Hospital Road | Fax: +91 22 24044450 |
| Chemical Weekly | Sion (East) Mumbai 400 022 | www.chemicalweekly.com |
DOWNLOAD BROCHURE..... Please use
http://www.chiralindia.com/Brochure.pdf
link to download the Brochure. Our website URL is
www.chiralindia.com
| | |
| --- | --- |
| | |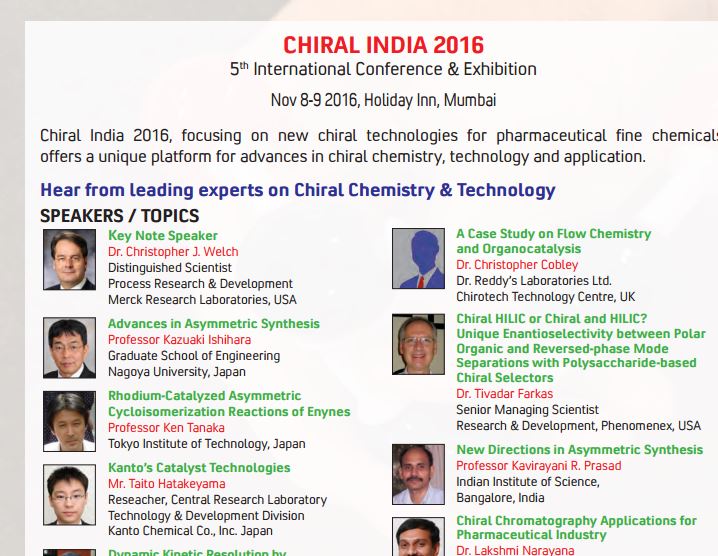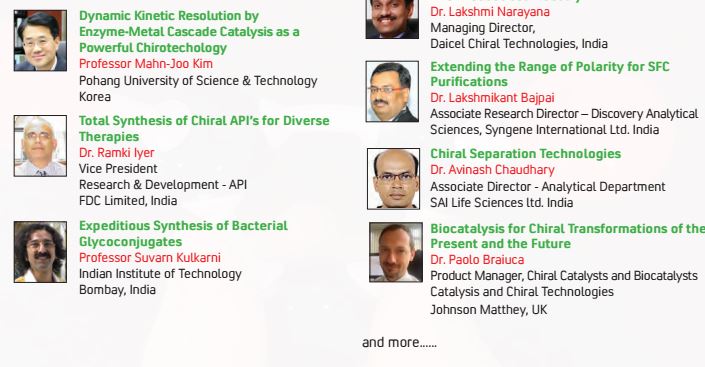 SCROLL USING MOUSE TO VIEW 5 PAGES
////////CHIRAL INDIA 2016, 5th International Conference, Exhibition, Nov 8-9, 2016, Holiday Inn, Mumbai, India