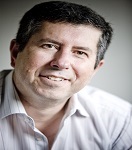 Professor
Monash University
Australia
Steven J. Langford received his BSc (Hons I) and Ph.D. from the University of Sydney in 1994.
After postdoctoral work in the UK under the auspices of a Ramsay Memorial Fellowship with Sir J. Fraser Stoddart FRS investigating the formation of topologically interesting molecular assemblies for molecular device development,
and
at the University of UNSW as an ARC Postdoctoral Fellow investigating electron transfer processes in giant multichromophoric systems,
He joined the School of Chemistry at Monash University in 1998. Here, his interests in diverse areas such as nanoscaled devices, photosynthetic mimicry, sustainable chemistry, molecular logic gates and motor neuron disease were developed.
He was appointed Professor of Organic Chemistry in 2006, Deputy Dean of the Faculty of Science (2009-2012) and Head of School of Chemistry in 2010 at Monash.
Since 2012, he has also been Director of Monash's Green Chemical Futures.
His research interests focus on concept transfers from nature, particularly in the areas of solar energy conversion, fluorescence and molecular device functionality.
He has published over 150 research articles and was awarded the 2006 Young Investigator Award by the Society of Porphyrins and Phthalocyanines.
Interests focuss around the energy transduction properties of photosynthetic systems and the potential use of the principles involved to design and evaluate wholly synthetic systems that mimic all or part of this process for applications as molecular batteries, molecular logic, energy transduction devices and for solar energy conversion. Stable funding through the NCG Schemes since 2002 has allowed our independent research to flourish in the area of self-assembling multichromophoric systems. Illustrates some examples of assemblies and arrays from my group which exploit the oxophilic nature of Sn(IV)porphyrins for light harvesting