Ranjala Ratnayake, Ph.D.
(Natural Products Chemistry)
Ph.D. Organic Chemistry,University of Queensland, Australia
M.Phil. Natural Product Chemistry, The Open University of Sri Lanka
B.Sc. Chemistry and Biology, The Open University of Sri Lanka
rratnayake@ufl.edu
https://plus.google.com/105054078029676250782
Luesch Lab Members
Assistant Scientists
PO Box 100485
Gainesville, FL 32610-0485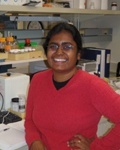 Title: Dr.
First name: Ranjala
Surname: Ratnayake
Nationality: Bangladeshi
E-mail:
PhD Thesis - Chemistry and Bioactivity Studies of Australian Microorganisms - 2007
History
Sri Lanka developed its own Ayurvedic system based on a series of prescriptions handed down from generation to generation over a period of 3,000 years. The ancient kings, who were also prominent physicians, sustained its survival and longevity. King Buddhadasa (398 AD), the most influential of these physicians, wrote the
Sarartha Sangrahaya
, a comprehensive manuscript which Sri Lankan physicians still use today for reference.
Ancient inscriptions on rock surfaces reveal that organized medical services have existed within the country for centuries. In fact, Sri Lanka claims to be the first country in the world to have established dedicated
hospitals
. The Sri Lankan mountain
Mihintale
still has the ruins of what many believe to be the first hospital in the world. Old hospital sites now attract tourists, who marvel at the beautiful ruins. These places have come to symbolize a traditional sense of healing and care, which was so prevalent at that time.
Historically the Ayurvedic physicians enjoyed a noble position in the country's social hierarchy due to their royal patronage. From this legacy stems a well-known Sri Lankan saying: "If you can not be a king, become a healer." Along with
Buddhism
, the interrelationship between Ayurveda and royalty continues to influence politics in Sri Lanka.
Four systems of traditional medicine have been adopted in Sri Lanka: Ayurveda, Siddha, Unani and Deshiya Chikitsa. The Ayurveda and Deshiya Chikitsa systems use mainly plant and herbal preparations for the treatment of diseases--the former uses about 2000 species, the latter about 500. The plants are used singly or as mixtures.
The traditional systems of medicine have a vast literature, mainly in the form of manuscripts. The principle of the Ayurvedic system is to consider the body as a whole, ailments of different organs not being treated separately as in modern medicine. Similarly, Ayurveda takes into account the actions of the drug in its entirety.
Research therefore must be carried out in hospitals or biological laboratories and not in chemical laboratories where plant extracts are subject inevitably to chemical reactions. Therefore the chemical approach to identify active principles is a complete deviation from the principles of traditional medicine. Research on plants should be carried out for the further development of traditional systems of medicine and not to their detriment.
The threat of extinction of certain species of plants and herbs is stressed, the causes being the destruction of jungles, the greater demand for raw materials for increased manufacture of traditional medicinal preparations, the absence of organised cultivation of medicinal plants, and unscientific harvesting. The compilation of encyclopaedias of plants used in traditional medicine is highly recommended for every country interested in preserving the traditional systems of medicine.
References
Sri Lankan traditional medicine