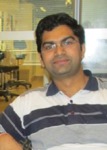 .
Dr. Sandeep N. Raikar
Dr. Sandeep N. Raikar did his BSc and MSc from Sri Satya Sai Institute of Higher Learning-India. He then moved to University of Kansas where he worked with Prof. Helena C. Malinakova and obtained his Ph.D. degree in 2013. Currently he is a postdoctoral associate in Prof. Huw M. L. Davies laboratory at Emory University.
////////////
DRUG APPROVALS BY DR ANTHONY MELVIN CRASTO .....
FOR BLOG HOME CLICK HERE
amcrasto@gmail.com