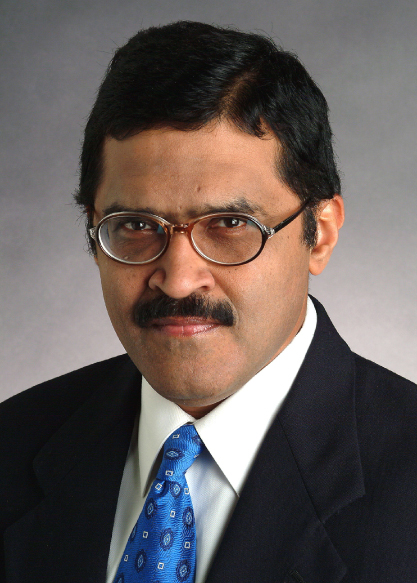 Ram W. Sabnis is a Senior Patent Agent in USA. His interests include dyes, pigments, organic chemistry, heterocycles, polymers, synthesis, formulations, coatings and patents. Presently, he focuses on drafting and prosecuting US and international patents.
He is a registered patent agent with US Patent and Trademark Office (USPTO). Prior to entering the legal (patents) field, he was a research chemist for Ascadia, General Electric, Brewer Science, U.S. Textiles and Thermo Fisher (Molecular Probes) in USA.
He also worked as a Patent Agent at Squire Patton Boggs L.L.P. and Senior Manager at Pfizer Inc. (Wyeth).
Dr. Sabnis was born and raised in Mumbai, India. He received his Ph.D. in Organic Chemistry (Dye Chemistry) from Institute of Chemical Technology (ICT) (formerly UDCT), Mumbai, India.
He is a Chartered Colourists, Fellow of Society of Dyers and Colourists (CCol FSDC).
Dr. Sabnis is one of the world's foremost experts in dyes, inventing world's first colored bubbles (non-staining) and color changing dye system with many applications.
He has immensely contributed to color science and technology for the past 25 years, particularly, dyes for biomedicine, personal care products, health/beauty products, electronics (displays, OLEDs), inks, paints, plastics, textiles and toys/bubbles.
He has over 200 publications which include books, book chapters, encyclopedia chapters, patents, reviews, papers, and symposia presentations. He is also an inventor of several US and international patents (issued/published). Dr. Sabnis is the recipient of Pfish Award, Perkin Innovation Award, Grand Innovation Award, Competitive Spirit Award and Best Doctoral Thesis Award.
Dr. Sabnis is awarded the Gold Medal for "Outstanding service to the coloration industry" by the Society of Dyers and Colourists, Bradford, U.K.
He has written two books on color chemistry, namely, "Handbook of Biological Dyes and Stains" and "Handbook of Acid-Base Indicators." He will continue to focus his activities on fascinating dye chemistry as well as demanding intellectual property in the years to come.
BOOK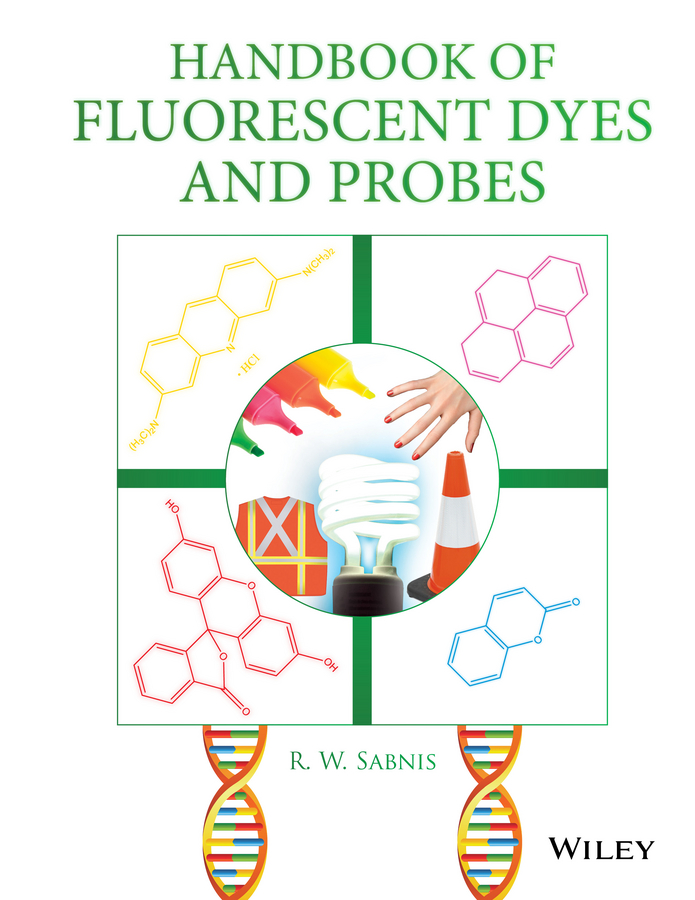 Wiley also publishes its books in a variety of electronic formats. Some content that appears in print may not be available in electronic formats. For more information about Wiley products, visit our web site at www.wiley.com.
Library of Congress Cataloging-in-Publication Data:
Sabnis, R. W. (Ram Wasudeo)
Handbook of fluorescent dyes and probes / R.W. Sabnis.
pages cm
Includes index.
ISBN 978-1-118-02869-8 (cloth)
I express my profound respect and appreciation to my Guru/Mentor/Advisor, Prof. D. W. Rangnekar, who brought me to this wonderful world of Color Science in the Department of Dyestuffs Technology, Institute of Chemical Technology (ICT), where I laid the foundation stone for my research career in Dye Chemistry.
It is a pleasure to make grateful acknowledgement to Dr. Alan Fanta, Dr. Doina Ene, and Dr. Jeffrey Talkington for extremely useful discussions, encouragement and inspiration.
Words are inadequate to express my sincere appreciation to my wife Madhuri and daughter Anika. It would not have been possible to write this book without their encouragement and patience. It is a great pleasure to express my gratitude and appreciation to John Wiley & Sons Inc., for giving me an opportunity to write this book.
http://onlinelibrary.wiley.com/doi/10.1002/9780470586242.fmatter/pdf
PH D
ICT, MUMBAI,
DR D W RANGNEKAR
DYES SECTION